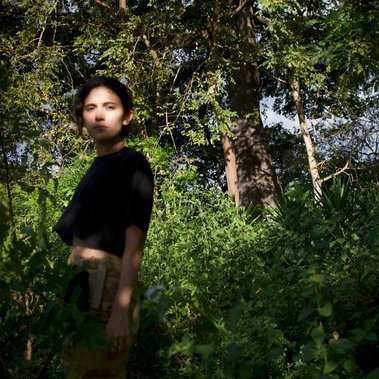 andi icaza-largaespada is an artist, and facilitator with ties and responsibilities to Nicaragua and Central America, and to BIPOC and migrant communities in Canada and abroad. Their practice observes modes of belonging and resistance, searching for possibilities within tensions. She has to redact this bio for the time being holds a BFA in Visual Art (SFU 2017), and has continued her education through the BCAC's Early Career Development Grant (2019) alongside mentors and Althea Thauberger to forward a transnational visual storytelling practice focused on grief and healing.

contact: andicaza@gmail.com
EDUCATION
2021 Emerging Visual Artist Online Intensive, Banff Centre for the Arts and Creativity
2020 Laboratorio Audiovisual, Cinema Regional y Centro Cultural de España en Nicaragua
2019-20 BCAC Early Career Development Grant with and Althea Thauberger
2013-17 Simon Fraser University- BFA in Visual Arts (with Distinction)

EXHIBITIONS
2022 Proyecto Origen, Group Exhibition, Specialty Coffe Association Expo, Boston
2020 Mayinca: Orocidio, Group Exhibition, Museo del Pobre y Trabajador
2019 Masquerade, Group Exhibition, The Hatch Gallery, UBC
2018 De Rerum Natura, MAFA 5, Arad, Transylvania, Rumania

we were told we shouldn't, with Nico Yu, Group Show, fiftyfifty collective, Victoria BC
, Group Exhibition, Berlin
untitled (a mountain bought but not yet named), Solo Exhibition, Contemporary Art Gallery of Vancouver
I know you are but what am I, Collab with Aghig Gougani, Recent Graduates Group Exhibition, Centre A, Vancouver
New Generation Photography Award, Group Exhibition, OCAD Onsite Gallery, Toronto
un huesped intruso , , Managua NIC
2017 Laboratory Landscape, Group Exhibition, Stanley Park, Vancouver
Lazy Susan, Graduation Group Exhibition, Audain Gallery, Vancouver
2016 tiene Parasitos: Un Borrador, , Managua.
Tender Admission Solo Exhibition, SCA Office Series, Vancouver.
Dear Leader, what I love… BFA Project,SFU, Vancouver.
2012 5PM Managua, Nicaragua 2012 GRID Photofestival.Amsterdam.
2010 Group exhibition for Soma Literary Magazine Launch. Managua.
PUBLICATIONS
2020 'the dog, spirits and a fly' short story, SAD Mag 'Death' Issue, Vancouver
2019 , Moniker Press, Vancouver
2016 A Conversation Between: Hobbes Ginsberg & Andi Icaza, The Blue Library Volume 2, New Orleans
moist beings, Publication Studios Vancouver, Canada
2015 10800: Cultura Visual de Extremo a Extremo, Nicaragua
2014 Musica y Fiesta: Cultura en Imagenes de la Region Atlantico Sur (RAAS), OEI Nicaragua
2013 CEDLA Art Exhibitions 2012 CEDLA Annual Report
2008 Generacion CTRL + ALT + DEL Pata de Perro, Nicaragua


FACILITATION
Arts-based educational workshops on art as resistance
2019- Reframing Relations, Multiple Sites, CAVC, BC
Volunteering for a Better World: Mutual Support, Bodwell High School, North Vancouver
2018 Grassroots & Community Advocacy:Extractivism and Resistance, Where There Be Dragons, Guatemala
Arts Umbrella Visual Art Summer Intensive, Contemporary Art Gallery of Vancouver

CURATORSHIP
2018 Sin Musas, , Managua

AWARDS & NOMINATIONS
2018 New Generation Photography Award, Canadian Photography Institute Shortlist
2017 Contemporary Art Gallery Prize
BMO 1st Art! Competition Nomination Philip B. Lind Emerging Artist Prize Longlist
2016 AIMIA|AGO Scholarship Honourary Mention Tanabe/Thorne Annual Award in Visual Arts
2015 Best Portfolio in Photography Canon Canada and School for the Contemporary Arts Prize
2015, 2016 Undergraduate Open Scholarship Simon Fraser University
2013 IB Excellence Entrance Scholarship Simon Fraser University